Moving is a big change; but at Atomic Auto, we see change as a good thing.
Of course, you'll have questions. Here are the big ones. Have others? Drop us a line at [email protected]
We're passionate about hybrid and EVs, the next step in the evolution of personal transportation. They're more efficient, have fewer parts to break and produce less waste. As specialized battery technology continues to advance, the benefits of EV's will be even greater, especially in the PNW with our abundant sources of renewable energy.
You're downsizing… Will you still service my car?
In general: Absolutely! If you're an existing Atomic Auto customer, we are committed to you and to maintaining your vehicles.
One caveat is that we may not be able to provide the absolute best service on some makes and models of cars. Part of our moving and downsizing means that we're losing some of our talented mechanics (#goodbyeFaye). Don't worry though, all our SAAB folks are sticking around. If you book an appointment for a vehicle we're not confident we're able to service 100%, we'll contact you right away and put you in touch with one of the shops on our short-list of folks we know and trust.
Is the new location very far?
No! Not at all. It's only 4-15 minutes (depending on traffic) from our old location and the drive may actually be shorter for some customers.
Our new shop is in an up-and-coming area of our rapidly growing city of Portland! We're a block from the Gateway Transit Center and a block from Enterprise Car Rental. We're very excited about this location; it's the perfect place to hone our craft of Hybrid and EV car repair, and continue to engage in Portland's vibrant business community.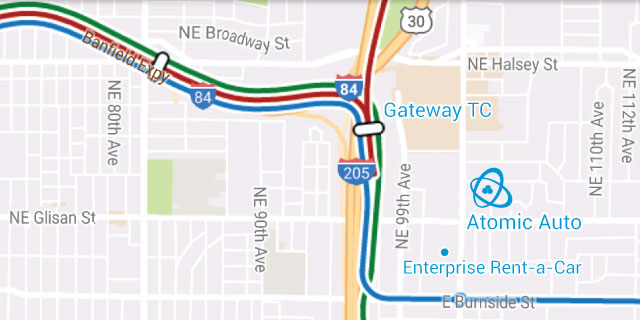 Still worried about transportation?
We have a great loaner car program. We offer a pickup/return service for some areas of Portland, and are expanding to some mobile service when possible -- that's right… we'll bring our shop to you! In short, we're here to make your experience at Atomic Auto as easy and convenient as possible.
If you're interested in any of our outside-the-box transportation solution services, please take a moment to reach out to us.  We'll get back to you with details of how to get started.
What changes can I expect?
PLEASE TEXT OR EMAIL US! We're working hard to streamline and save everyone time.
Specializing in hybrid and EVs will save our customers money, provide the highest quality service, and will support our technicians by providing a healthy work environment.
We're enhancing our online booking and text-message communications. We're reevaluating and increasing the efficiency of our repair and maintenance. In many cases, your hybrid and EV service will be performed while you wait - we have a super comfy waiting area with workstations to park your laptop, fast internet, and free (GOOD) coffee.
Our plan is to really bring it at this new location: Smaller. Focused on doing what we do best.
Another awesome change you'll see is that we now proudly feature an EV charging station in front of the shop. (Charging is free during business hours, and turned off when we're closed.)
This will also mean some changes in how we run our business. Here are some ways that our customers can help us to provide top-quality service:
Please communicate by text or email. While we love to hear your voice, we want our technicians to use their time perfecting your vehicle's performance. More often than not, phone calls lead to phone tag, and nobody's happy. We are always glad to talk about issues on your car in the shop, but most common questions like "Is it done yet" "Do you know anything yet" "Text us, and we're happy to get back to you (almost) right away. If you would like to talk on the phone text us a specific time to call when you can answer so we avoid the round and round.
Let us call you. Really, we will. When you hand us the keys to your hybrid or EV, rest easy that we are putting our passion into your car's care and we will call and arrange for its pick up at the earliest possible moment. Remember-- efficiency is part of the plan!
Book online! It's faster and easier for customers, and again, it keeps our team doing what they do best: making hybrid and EV vehicles run as though they were powered by adorable kittens. We are leveraging technology and software to really get our schedule to be efficient, allowing us to better serve our clients. We ask that you do your best to keep your appointments, as to be efficient and keep our commitment to your schedule, we will have staff standing waiting for you if you no show or are late (Maybe this is too harsh.  We'll see how this works out, but don't call our bluff....)
Plan on the end of the day early! Our phones blow up between 5-6 pm and often we cannot even call back because we are being overwhelmed. If there is even a remote chance that you will be after 5:30, let us know and we have easy online payment and after hours key retrieval system
Why did you move?
Our giant 1948 building needed a lot of love (in building speak this is big bucks) and we knew that we could never ride that drunken monkey to the end of his rodeo
This is a time where we pause, reflect on the huge lessons learned in the past ten years, and really refocus our mission to be the absolute best. Best to our clients, best practitioners of our craft, and the best place to work for our staff.
We've long believed that hybrid and electric vehicles (EV's) are the future of personal transportation. They are more efficient than traditional vehicles by far. They're gentle on both consumer and environment in that they have fewer parts that break, requiring less maintenance and producing less waste. European cars are about passion and will always have a place in my heart. However as time goes by the large majority of people are shifting their priorities. Why spend tons of money maintaining an Audi when you could drive a Prius and spend the dough on a trip to Iceland?
As we've grown and learned more, and as society has changed, we've been steering Atomic Auto to specialize in the future of transportation -- focusing on hybrid and EV maintenance and repair. Car sharing, autonomous driving, advanced telematics, and many advanced technologies are rapidly changing our transportation infrastructure, and we have never been a team that is behind the times.
By moving, Atomic Auto can provide more personalized service and faster turnaround on repairs. We're able to specialize our services so that we can focus on our passion: hybrid and EVs. This focus will provide our customers with the best quality service while giving our team the opportunity to face forward, toward the future of sustainable transportation.