After hours key drop and vehicle pickup
Leave your car for service and pick it up on your schedule.
How to Drop Off
You can let us know you're leaving your car after hours when you book your service.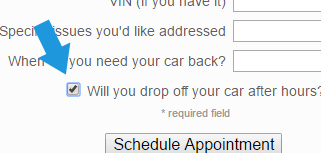 Already booked your appointment?
Shoot us a message that you've dropped off your car early, and we'll take care of the rest.
How to Pick Up
Fill out the form and we'll text or email to confirm your PIN.